Cute Masie in the living room
While we were talking with cute Masie in the living room at our studio we noticed that the braces of her little pink top are slipping down her shoulders and we asked her if she will flash her titties for us. Suddenly she grabbed the braces uncertain about what to do, pull them down or up. Come inside and watch what happened next. We figured that it was about time to show off some more hotties here and Masie here was sure a surprise with her kinky little scene in the living room. For her gallery we get to see this babe with shoulder long hair as she gets to do some teasing and playing with herself of her very very own. So let's get started!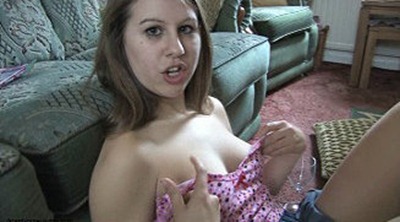 As you'd expect, the petite and curvy babe Masie likes to tease the guys that she has the attention of. Well with the suggestion that we gave her, she seemed to eventually go with it and not only did she flash the cameras to show her pretty tits, she also got to take off her top completely, being very confident in her perky and all natural round tits. See her flaunting them and parading them all across the little set that we had and enjoy the view. We're pretty sure that she's going to be back in future updates so make sure that you guys stay tuned for it if you want to get to see her again without fail. We'll be off for now so enjoy!
 Enjoy watching as this sexy babe takes off her top!