Tibby Muldoon loves to tease
Tibby has amazing boobs, i mean it, and she loves to tease. Her boyfriend is very proud of her sexy tits, and he encouraged her to show them off many times. He also spend hours playing with her boobs, so take a look inside this gallery and watch her flashing those big round titties for you! Well here we are again guys and gals and we get to see a mighty beautiful babe show off for you again. Her boyfriend is generous to let her show off her superb jugs for you too, but when they look so good and being as sexy and kinky as she is she was probably going to do some kinky posing eventually. Well let's get to check out her superb scene!
The POV for this one is above the babe. That's the perfect way to enjoy the view of her tits. Her outfit for the afternoon was composed of a blue blouse, a denim skirt and some knee socks. Take your time to watch her slowly reveal more and more of those beautiful tits as she opens up her blouse. And yes, she was wearing no bra underneath, so what you see is what you get, that's how her gorgeous tits look like naturally. The cutie takes her time to flash the cameras and you with her giant tits and she seems to be enjoying this sort of play as well. Who knows, maybe we'll have the fortune to see her at play around here in the future too!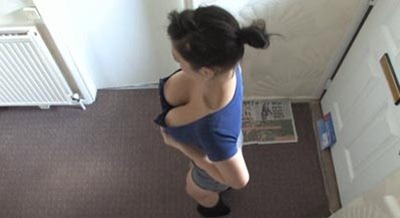 Enjoy watching this sexy babe flashing her big tits!